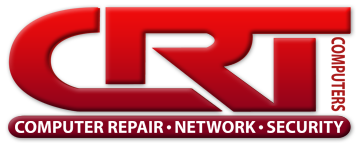 CRT Computer Repair Store
1311 Apollo Beach

Blvd

. South Apollo Beach, FL, 33572
(813) 645-4CRT (4278)
CRT Computer Repair Store and Service Solutions
Stop in and check out New Computer Store Location.

CRT Computers
1311 Apollo Beach Blvd. South
Apollo Beach, FL. 33572


Service & Sales: (813) 645-4278
9:00 to 6:00 - Mon-Fri
10:00 to 2:00 Sat.

info@crtcomputers.com

DIRECTIONS
West on Apollo Beach Blvd to end.
Take left on Surfside Blvd.
Take left on Apollo Beach Blvd. East
CRT is just past Condos on Left.

Bring your Computer to us. We can have you back-up and running in no time.

John Delage
CEO

john@crtservicesinc.com

Suzane Qualls
Managing Director

suzane_qualls@crtcomputers.com

Chris Pearson
Certified Technician

chris.pearson@crtcomputers.com

Randy Hughes
Lead Project Analyst

randy@crtcomputers.com

John Severns
Security Director

johns@crtsecurity.us

Anthony Arsenault
Field Project Analyst

anthony.arsenault@crtservicesinc.com

Teo Leonard
Master Web Designer

Teo@TheWebDesignNinja.com

Mark Delage
Security Liaison

info@crtcomputers.com
Areas CRT Computer Repair Store Service Include:

Tampa
New Tampa


Riverview
South Tampa

Apollo Beach
Westshore

Hillsborough
Pinellas
St Petersburg
Brandon
Citrus Park
Clearwater
Fish Hawk
Cheval
Odessa
Town 'N Country